---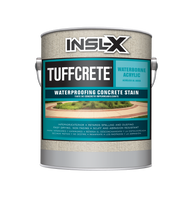 TuffCrete® WB Acrylic Waterproofing Concrete Stain is a water reducible coating designed for interior or exterior masonry surfaces. It may be applied in one coat as a stain, or in two coats as an opaque finish. An ideal choice for either vertical or horizontal masonry surfaces. This product is available in clear, white, ready mixed colors, and a full range of tinting bases. Not for immersion service.
Waterborne Acrylic Stain For Interior or Exterior Masonry Surfaces
Color Fade Resistant
Scuff and Abrasion Resistant
Retards Spalling and Dusting
Rugged, Durable Coating
Smooth, Satin Finish
Application:
TuffCrete® 100% Acrylic WB Concrete Stain may be applied by nylon brush, short nap roller, airless, HVLP or conventional spray. Apply material in a uniform, even coat at up to 550 square feet per gallon. Actual spread rate is determined by surface texture and application technique. Always attempt to coat large surface areas by painting up to natural breaks or in defined sections in order to reduce the potential for lap marks. For horizontal applications, allow to dry a full minimum of 24 hours before light foot traffic and a minimum of 72 hours before heavier foot traffic. Periods of high humidity, low temperatures or applying a heavy coat will extend the dry time. Do not apply in direct sunlight. Do not apply if ambient or surface temperature is greater than 90 °F or less than 50 °F.
Available Color Collections